What is it?
Shampoo and Conditioner
formulated for color treated and dull hair that is infused with Moroccan Argan Oil.
How much is it?
The price varies. I have seen it as low as $2.50 and all the way up to $4.99. I personally paid only $2.00 after coupons for each one.
Where to buy it?
Target, Wal-Mart, Drug Stores etc.
What is it supposed to do?
Give color treated or dull hair vibrant color, noticeable shine, long lasting conditioning while smoothing and sealing the hair cuticles to keep color vibrant.
What does it ACTUALLY do?
This
system
DID give my hair a really nice vibrancy and shine. My hair looked and felt softer and less frizzy than it does when using my normal shampoo and conditioner. My
normal shampoo and conditioner
are for color treated hair but my hair noticeably fades with each wash. I felt like
Suave Moroccan Infusion
left my hair less faded than my
normal shampoo and conditioner
.
Overall thoughts?
This stuff rocks! It makes my fried, bleached, damaged hair feel like healthy, soft luxurious hair. With all of the chemical processing my hair has decided to become curly in some spots, wavy in others and the rest straight which leaves me with a frizzy mess if I do not flat iron, curl or blow dry my hair. When I use the
Suave Moroccan Infusion
I can let my hair air dry and it is not frizzy at all. It also works great for my color. I have less fading when using it. The best part about this shampoo and conditioner is the price. At under $4 it is a STEAL!!
Have you tried
Suave Moroccan Infusion shampoo and conditioner
? If so, what did you think?
Thanks for reading,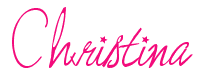 I edit all my photo's using
PicMonkey!
Go check them out!