I am going to break up my
Lime Crime
haul from IMATS into a few parts. First up are the new
Velvetines
. I had seen a lot of promo pics of these and thought they looked nice but it wasn't until I seen the actual product on a friends lips that I was sold. I got both colors, Suedeberry and Red Velvet. I picked up Red Velvet at IMATS and Suedeberry later on. They retail for $16.99 and you can purchase them
here
. They are currently sold out and sell out pretty quickly when they are stocked so grab them when you can!
The color is described as a strawberry red. It seemed to pull more orange on my skin tone than berry but regardless, I love it.
The actual product is called a gloss but personally I would not use that term only because it dries down to be the complete opposite of a gloss. This stuff is really cool. It applies liquid and creamy and dries to be totally matte and smudge proof.
Lime Crime Red Velvet Velvetine
If you have tried OCC Lip Tars or NYX matte lip creams than you are familiar with the way they dry into a matte formula. I prefer the Velvetines, I am not the biggest fan of how runny and hard to apply OCC Lip Tars are and I completely hate the taste of the NYX matte lip creams. The Velvetines are a thicker formula that is easily applied with the doe foot applicator. They have no scent or flavor which is also a plus.
I wore
Red Velvet
all day last Sunday. We went to brunch at a Mexican food restaurant. I can say that my lips looked just as good after countless bites of food, napkin wipes and drinks of champagne as they did when I first applied. There was no noticeable fading. I was pretty shocked.
After wearing
Red Velvet
all day my lips did feel quite dry. I normally apply lip balm throughout the day. This product is definitely not hydrating to the lips at all. I will note that it was windy that day and I drank a decent amount of champagne which also contributed to the dry lips.
Overall I have to say that I am in LOVE with this product. I rarely wear red lips mainly because I do not feel like I have found the right red but I feel like both of these shades are flattering on me. I also dislike wearing dark lips because of how they look as they wear off, the smearing and how it sometimes gets on your teeth. I didn't have to worry about any of those things with the
Velvetines
. I hope that Lime Crime comes out with more colors soon!! I am hooked!!
Have you tried the new
Velvetines
? If so, what did you think?
EDIT:
One of my friends who got Red Velvet told me hers wore all day long without reapplying. Woot! She also said hers smelled like a Vanilla Cupcake. My nose doesn't work too awesome because I can not really smell anything when I smell mine. I had a smell test with my kids and half could smell something, half could not. They all thought it smelled like chapstick so the jury it out. I just wanted to edit in case someone wanted a truly unscented product.
Thanks for reading,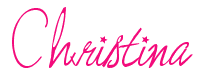 I edit all my photo's using
PicMonkey!
Go check them out!