IMATS Los Angeles is on Saturday! I will be there bright and early with my pocketful of money and my big bag for carrying all my loot! If you are going to be there please stop me and say "HI" if you see me!! If you can't be there than make sure you follow me on Facebook and on my new Instagram page for live coverage of the IMATS. I will be posting pictures and information constantly throughout the day!
Click
here for my Instagram
Click
here for my facebook
Thanks for reading,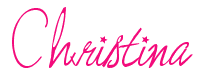 I edit all my photo's using
PicMonkey!
Go check them out!