I have been super busy and blogging on the desktop computer is so time consuming.
It won't let me upload my photos to blogger so I have to use photo bucket.
That isn't a big deal until I am doing a picture heavy post.
We are also deep into " Birthday" month here.
60% of my family has a birthday in the month of April.
It is hectic!! I am still going to dupe today but may not have
time to post because we are going to Disneyland!!
Anyway, I recently got to try OCC
Lip Tar!
A friend of mine was destashing her unused lip tars so I snagged Demure for $12.50 shipped.
I have heard so many great things about
Lip Tars
but have been too
cheap to bite the bullet and order from
OCC.
They retail for $13.00 and the shipping is around $5.
Yikes!!!
I also was turned off by the name. For whatever reason it reminds me of a cigarette.
Weird , I know
Here is what OCC says about Lip Tars:
A stunning new innovation in lip color, OCC Lip Tar combines the longevity of a lipstick, with the ease of application of a gloss. Goes on slick and moist, and dries down to a satin finish. Ultra-saturated in color, Lip Tar contains an unprecedented amount of pigment - a little goes a very, very long way! An intense yet featherweight layer of color that stands up to the scrutiny of Hi-Def Video and Digital Photography, without ever looking (or feeling!) heavy. Meant to be mixed, Lip Tar comes in concise array of colors for a limitless selection of shades made by you!
Like all of our products, OCC Lip Tar is 100% Vegan and Cruelty-Free, and is also free of parabens and other harsh preservatives. A simple, elegant formula that contains Hemp Oil, Peppermint Oil and Vitamin E, OCC Lip Tar feels as good on the lips as it looks!
DIRECTIONS:
Apply the
tiniest
bead of Lip Tar with our
#009 Angle Brush
for complete, opaque coverage, either mixed with other shades or straight out of the tube. Applying too much product can result in feathering/bleeding so remember: a little goes a very, very long way!
A little goes a LONG way with
Lip Tars
. I used a tiny dab and applied with my lip brush.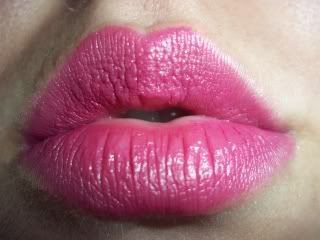 I really like the texture and feeling of this product.
It went on extremely easy and felt light with no stickiness.
I applied this on a heavy cleaning day.
Right after I put this on I ate 2 tacos and wiped my lips repeatedly.
I also have a bad habit of licking and biting my lips.
Both of which I did while wearing the lip tar.
I also drank from a water bottle.

This was the end result after all of that.
For there to be any trace of lip color is amazing!
I really like
Lip Tars
and I plan on ordering more soon!
They have quite a few amazing colors available and some really unique ones too!
Have you tried
Lip Tars
? What do you think?
What colors do I need???