My awesome husband INSISTED I take advantage of the sale
BFTE
had a couple weeks ago!
I ordered on March 17th and I had my order in my hand less than 7 days later.
That my friends, is amazing because
BFTE
had a HUGE sale which resulted in
hundreds of orders and they still managed to get orders out
FAST and EFFICIENTLY!!
I apologize for the photo quality. I uploaded these to my laptop which now has a virus.
The only way I could get the pictures to blog was to save
them to Facebook and then save them to my desktop.
The result is semi blurry pictures.
I spent $70 and got all of this!
45 sample size jars , the full size color of the week
and some Mix & Fix for "foiling" the pigments.
My order came packaged awesome, everything was sealed and wrapped in tissue paper.
I have to say that I am super impressed with this company and
the commitment they have to shipping orders quickly and being efficient.
This was my 3rd
BFTE
order and every time I have gotten great customer service,
quick shipping and awesome pigments.
I can say that I fully trust
BFTE
as an indie makeup company.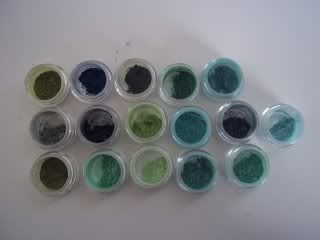 My awesome husband sat with me and looked through hundreds of colors.
He apparently is partial to greens too <3
I love all these colors but my fave so far is Envy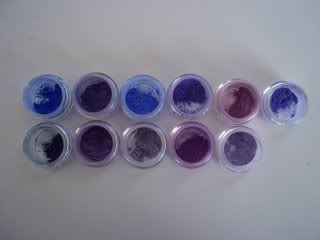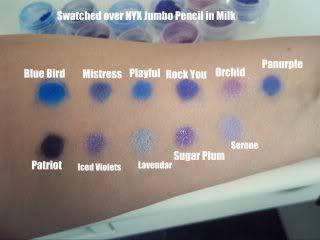 The stand outs in this bunch for me are Patriot which is a gorgeous navy blue and Sugarplum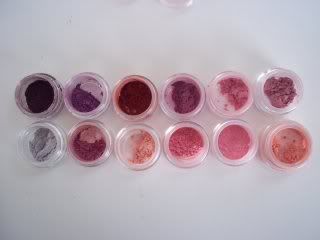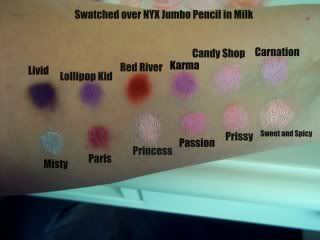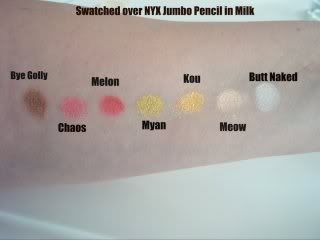 I am loving Butt Naked and Melon so far!
Normal price on samples is $2.00 ( I paid $1.40 on sale)
Sample jars contain approx. .5 grams of pigment.
It is plenty for quite a few uses.
The sample size is great because you can build a nice stash without
having to spend too much and you can test a color before committing to a full 5 gram jar.
Full size jars contain approx. 1-3 grams and are $6.50 each.
Shipping is $4.00 flat rate and free for orders over $50
Another great feature is the color of the week which is a full size jar at sample price ( $2.00)
So overall I am overjoyed with this purchase!
I was able to get a ton of new colors to replace all the glittersniffer pigments I got rid of!
I haven't had a ton of time to play with these but I did finally do a look today!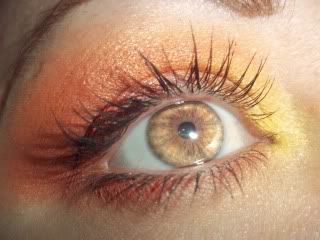 I used Lemon, Melon and Red River.