I recently took pictures of my makeup area and my whole stash.
A bunch of girls in my makeup group on Facebook were sharing stash pictures
so I thought I would share mine here.
Here is where I get painted up!
I blogged all about where I got the whole setup and how much it all cost.
You can read that post
here
My stash has grown quite a bit since January. Here are some updated pics.
I like to keep pretty organized and clean.
I used to keep everything in a Caboodle and everything was always covered in eyeshadow dust.
Ewwwwwwwwwww
I have grown up LOL.
Here is one of my organizers.
This one slides into the open space underneath the vanity top.
I keep most of the unloved stuff in here and it is also home to all my giveaway stuff!
All my useless brushes, face powder, loose glitters and an array of crappy liquid eyeliners.
I cleaned this out before I took the picture and my sister
will be getting a huge makeup bag filled with things I didn't care for.
The whole bottom right compartment and the one next to it are give away stuff!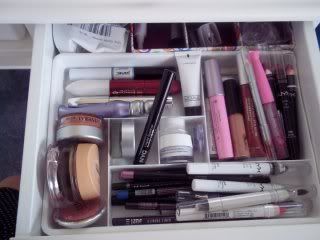 This is the organizer inside the drawer. This is where all the stuff I use lives.
Top left is mascaras and primers, top right is lip stuff,
the 2 little compartments in the middle are liners and primers,
bottom right is all eye pencils and the bottom left is foundation and blushes.
In the way back of this drawer I keep my pencil sharpeners, empty pots and my receipts.
My brushes. Most of these I never use.
They are all e.l.f, Studio Tools or Coastal Scents brushes.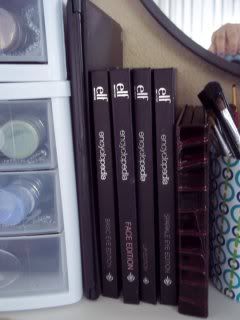 My Coastal Scents 88 palette, my e.l.f Beauty Encyclopedias and my Lorac set.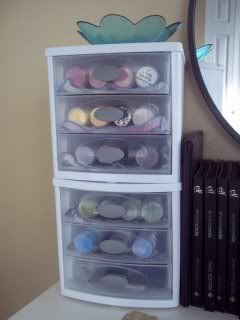 The tower of color!!!
I keep all of my loose pigments and smaller palettes in here.
The glass flower bowl on top houses anything new I get until I can swatch it and put it away.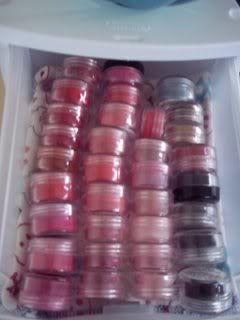 Top Drawer.
All of my red, pinks, blacks and strange colors I do not know where to put.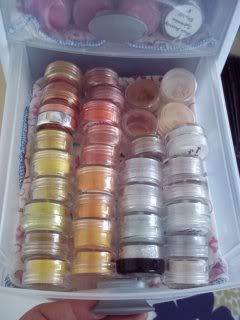 2nd Drawer
All my yellows, oranges and whites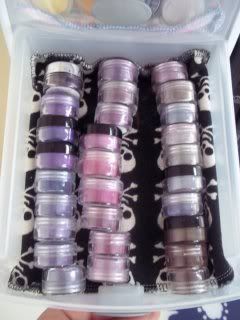 3rd Drawer
All my purples and magenta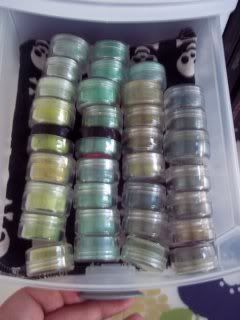 4th Drawer
My greens.........ahhhh my greens. I <3 them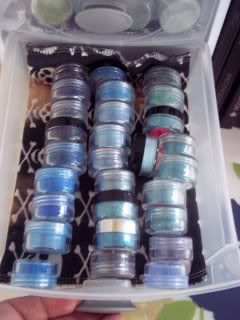 5th Drawer
My blues.
Is it sad that seeing this in pictures makes me think I need more =0x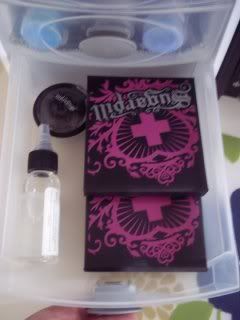 6th Drawer
Home to my Sugarpill and my Mix and Fix from BFTE
So that is it.
Was it bigger or smaller than you imagined?
Now I would LOVE to see your stashes!!
If you have a blog, post it!!!
I am so nosey and I love peeping at other peoples stashes.
There is one person in particular that I would LOVE LOVE LOVE
to see their stash and how they store everything.
Any guess on who it is???
That girl has to have a TON of stuff and I for one would love to lust over the pictures of it all!!