I was at Rite Aid on the search for Shocktop Honeycrisp Apple Wheat Beer ( you have to try it, it is AMAZING) when I stumbled across this Revlon polish called Girly. It looked yummy. Yes, yummy. Like food. It reminded me of bubble gum ice cream or something. My nails were freshly painted so I tested the polish on my daughter first! I was hoping for a more opaque polish but it is pretty sheer. I did two quick coats on her nails. It did add a hint of color. I was impressed with how much glitter/flecks I was able to get onto her nails with two coats. I only paid $3.50 for this polish because it was on sale. Overall I really like this.
My daughters nails with two coats of Revlon Girly
My nails with 2 coats of Color Club He Loves Me and one coat of Revlon Girly.
Have you tried this new shade from Revlon? If so, what did you think about it?
Thanks for reading,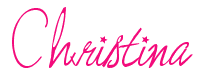 I edit all my photo's using
PicMonkey!
Go check them out!