Here is a rarity for you! A nail post! My nails are in decent shape so I thought I would take a pic of my recent polish job and give my opinions on the Fergie for Wet N Wild star polish. I do not post about nail polish often for numerous reasons. One being my nails are tiny. Not just short, like the whole nail bed is quite small. Another reason is I am not good at doing cool artsy things to my nails. I like a coat of color and a coat of glitter. Bam. Done!
I used Sally Hansen Extreme Wear in Pacific Blue ( which I found quite thin when I applied). Next I used Wet N Wild Hollywood Walk of Fame by Fergie. I do not have the best luck with polishes like these. Small nails do not work well polishes that have shapes or large flakes in a clear polish. As I figured one swipe on my nail gave me nothing but a thick clear coat. I got a piece of paper and dropped a blob on it and sort of separated the stars and the clear coat. Then I wiped all the excess clear coat off the brush and applied the stars. It was a mess because it was so dry. It rubbed some of my Pacific Blue off in spots. By then I was annoyed so I grabbed Sinful Colors glitter in Frenzy and just slapped it over it all. I ended with a clear coat of Sally Hansen Extreme Wear. It ended up looking cute but was a hassle. The edges on most of the stars are lifting so they snag on everything. I am going to return the Fergie polish because it really doesn't work for me and I am not impressed by it at all.
Have you tried this polish? Does it work better on larger, longer nails? What did you think of Hollywood Walk of Fame?
Thanks for reading,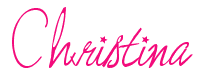 I edit all my photo's using
PicMonkey!
Go check them out!