Want to look your best in 2013 but don't know where to start? Join Gouldylox Reviews'
beauty bootcamp
and make this the best year yet!
Kim Porter has a thing for the IT Cosmetics Dual End Eyeshadow brush. Read her
review
to see why.
A new year, a new way to wear you hair. See the
Verge Spiral Wand
and what it can do for your hair on Beauty Info Zone.
Trying to keep track of a nail polish collection that's growing terrifyingly quickly? See how Angela does it
here
at Do Want Makeup (and get a peek at her hoard!)
Cindy over at Prime Beauty is elated she found
DermOrganic Hair Care
! Softness and manageability just might NOT be an oxymoron!
Are you bored with magnetic nail polishes yet? Don't write them off until you see the amazingly gorgeous
Barry M magnetic polish
Anita has discovered over at Pleasureflush!
This week Jessika from polish insominac fell in love with the Nicole by OPI
Modern Family Collection
, and once you see it you will too!
Want to know how to get long nails in less than an hour? Check out Jenn from Spiced Beauty's
Bio Sculpture Gel Nails Experience
! You will be amazed!
Love powder foundations? Beauty Reflections has a review of the new
Make Up Forever Pro Finish Multi-Use Powder Foundation
!
Jenny at
My Funny Valentine
shows you how to fool people into thinking you have healthy shiny hair (when you really don't).
Thanks for reading,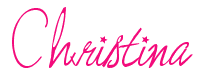 I edit all my photo's using
PicMonkey!
Go check them out!