What is it?
Waterproof/Smudge proof eyeliner
How much is it?
$19 each
Where to buy it?
http://www.anastasia.net/Covet-Waterproof-Eyeliner.html
What is it supposed to do?
Text from the product listing:
Covet Waterproof Eyeliner applies silky, smudge-proof color anywhere your heart desires, even inside the waterline. Create anything from perfectly precise cat eyes to avant-garde designs that go anywhere your imagination can take you. Available in five rich, crave-worthy shades and featuring a built-in sharpener, Covet is the eyeliner that you'll want to keep your eyes on.
What does it ACTUALLY do?
This is most definitely waterproof and smudge proof. I left the swatches below on my arm for two days and they hardly budged. I rubbed my hand across them vigorously and also took a shower and they stayed put. However they did remove easily with makeup remover. I have used Noir on my tightline for a couple of weeks and really love it. The formula is smooth and is easy to apply. It glides on without any tugging at the delicate skin around the eye. It also washed off my eyes easily using my Neutrogena face wash.
New pencil twisted all the way up to show size
Overall thoughts?
Overall I really like these liners. They are easy on the eyes to apply, they are super long lasting and they come in a nice array of colors. I am not a big fan of the price. I am usually on a strict budget so $19 for an eyeliner would normally be out of my price range. I use Noir for my tightline daily so I know I will run out of it soon. I probably will look for a cheaper drug store version since I go through automatic eyeliners quickly. The other liners will probably last me quite a while since I do not use liner every time I wear makeup. So once I use all of Azure and Vert I will probably buy them again since I love the colors and formula.
What do you think about these liners? Have you tried them?
Keep an eye out because I will be posting a giveaway that will include two of these liners later in the week!!!
Thanks for reading,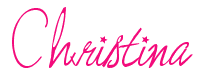 I edit all my photo's using
PicMonkey!
Go check them out!
These items were sent to me for review by Anastasia Beverly Hills. All the opinions above are my own.